CHMS Weekly Snapshot
January 25, 2019
Upcoming Dates/Events
January 31 Light bulb fundraiser is due back January 31
February 15 Town Hall Assembly/Faculty Student Game/Fashion Show
February 20 NHS counselors visit grade eight to explain course selection process
February 28 Mardi Gras Themed Dance 6:00-8:00
March 14 Student Faculty Basketball game at NHS
Congratulations to the CHMS cheerleaders for placing 2nd in the competition this weekend and winning the spirit award. Way to go!
Student Faculty Basketball Game
Our girls and boys basketball teams will challenge the faculty to a game on March 14th at 6:00 PM. At half time our Unified Sports students will play and all students will be eligible to participate in a game of Knockout.
This year we will also offer a Knockout for parents. Tickets will be on sale at CHMS beginning next week and at the door. Interested families should RSVP to eileen.mezzo@naugatuck.k12.ct.us so we have a count.
High school transition
The NHS counselors will visit CHMS on February 20th to review the course selection process. The counselors will walk students through the process and review the program of studies. Students will be selecting their courses at the end of February. For a more detailed explanation of the criterion for placement into honors classes follow the link.
Washington Trip Payment Schedule
Direct questions to washingtontrip8thgrade@yahoo.com
We are continuing a winter Boxtops for Education. Please send in your boxtops for education. The homeroom with the most boxtops per students will receive a lite contintnetal breakfast of bagels and muffins. Please return the boxtops to the school by February 15th. Please contact Eileen Cornacchia Eileen@bedardcocpas.com with questions.
The Naugatuck PSC (Parent School Council) will be hosting a community event to showcase the wonderful community benefits available in and around Naugatuck. We are reaching out to local businesses, non-profit groups, community organizations, vendors and clubs for participation in our 4th Annual Community Showcase.

The Naugatuck PSC is a not for profit organization who works in conjuncture with the Naugatuck Public Schools Parent Teacher Organizations, (PTO's) in offering opportunities for the betterment of children in Naugatuck. The PSC annually offers scholarships to graduating seniors at Naugatuck High School and in addition, the PSC also annually hosts the Raymond K. Foley Award. The Raymond K. Foley Award, presented by the Naugatuck Parent School Council, honors an individual or group who has demonstrated outstanding service and unselfish dedication contributing to the betterment of Naugatuck children.

The date of the showcase will be Saturday, February 23rd, 2019 from 10:00am to 2:00pm at the Naugatuck High School Gymnasium. The cost for an 8 foot space will be $25.00 (NO TABLES PROVIDED).

Set up beings at 9:00am.

A door prize will be offered.

If you are unable to attend but would like to make a donation to the PSC, please make checks payable to Naugatuck PSC.

If you would like a registration form or have any questions, please feel free to contact Jen Stone at 203-232-3876 stone@naugatuck.k12.ct.us.

All registration forms and payment must be received by Saturday February 16th.

***The Young Entrepreneur Expo: In addition to our community businesses and groups, we have decided to open this up to school-aged children. The children will be introduced to entrepreneurship to help them learn how they can market a business or product. Alongside your table, it is our hope that children will also have a table to display to our community. If you know of a child who would be interested, please share this information with them. There is a separate register letter and cost for our young children.
See their Facebook page for more information including what businesses are already signed up to attend.
https://www.facebook.com/NaugyCommunityShowcase/
You can find the sports schedule on our website and a complete link to the CIAC website.
Friendly Reminders:
Dress Code reminders -
Students may not wear jeans with tears above the knee without wearing leggings underneath.
Students may not carry or "wear" blankets to class.
Students should only have clear water bottles in classrooms. We are not permitting travel mugs in school.
Thank you to parents who drive cautiously in the morning and afternoon pickup. Students should not be dropped off at CHMS before 7:40 a.m. Please turn off your engine while waiting. We make our children's safety a priority. Just a reminder that students under 18 are not permitted to ride alone using an Uber service.
Parents, reminder to always bring your picture ID when visiting City Hill.
Please reinforce our ROCKS expectations with your children.
R espect O rganization C ooperation
K indness S afety
Community Connection

From the Naugatuck YMCA,
The YMCA is offering a Fit Club program for any student who is deemed academically healthy (passing all classes at CHMS. )For more information or to register please contact Catherine Proto at the YMCA (203) 729-9622
We will provide transportation from CHMS directly to the YMCA after school.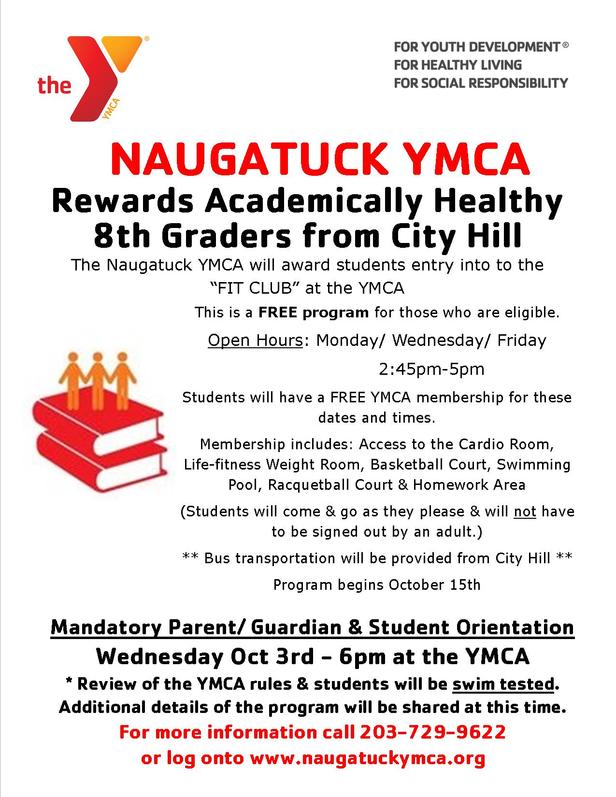 Links to Important Documents
Resources for parents of middle school students
CHMS PTO minutes Scroll down for all months
City Hill Middle School website

My School Bucks (Make cafeteria lunch payments online)
Please like our City Hill Middle School Facebook Page for daily updates and photos.