CHMS Weekly Snapshot
November 16, 2018
Upcoming Dates
November 21-23 Thanksgiving Holiday - No School
November 29 Wingman Holiday Vendor Fair 4:00-8:00pm
November 29 NHS Open House for 8th grade parents and students from
6:00-7:00 in the NHS auditorium
Upcoming Events
Click on the link to learn more about how to join the Arts and Crafts Club.
November's Hike Canceled due to inclement weather
7th and 8th Grade Science Classes:
City Hill's 7th and 8th Grade Science students had an opportunity to participate in an in house field trip to help support our new "NGSS Engineering and Design principles."Jay Mankita who owns "Playful Engineers" became our in house resident design expert for the day. All students were provided with a huge assortment of materials to design and build with. They had so much fun constructing, creating, taking things apart, and rebuilding. In addition, they made great real world connections to the engineering and design process when they broke up into design teams to create their very own Rube Goldberg machines. It was amazing hands on NGSS experience that our students were able to be a part of.
Friendly Reminders:
Dress Code reminders -
Students may not wear jeans with tears above the knee without wearing leggings underneath.
Students may not carry or "wear" blankets to class.
Students should only have clear water bottles in classrooms. We are not permitting travel mugs in school.
Washington Trip Payment Schedule
Direct questions to washingtontrip8thgrade@yahoo.com

The DC "drop off" dates for the remainder of the payment schedule will be—
12/11 at 6:30pm
1/15 at 6:30pm
Guidance News:
Visit the Counseling section on our website for information on the upcoming 8th grade open houses.
Nurses Corner:
Scoliosis screenings will begin the week of November 5. If you wish your child to be opted out, please send in a written note to the school nurse. We are beginning screenings on the grade 7 girls. We will probably be done with them by the end of December. Starting in January, the 8th grade boys will be done. Any questions call your school nurse, 203-720-5250.
Safety Measures

Thank you to parents who drive cautiously in the morning and afternoon pickup. Students should not be dropped off at CHMS before 7:40 a.m. Please turn off your engine while waiting. We make our children's safety a priority. Just a reminder that students under 18 are not permitted to ride alone using an Uber service.
Parents, reminder to always bring your picture ID when visiting City Hill.
Please reinforce our ROCKS expectations with your children.
R espect O rganization C ooperation
K indness S afety
Community Connection

From the Naugatuck YMCA,
The YMCA is offering a Fit Club program for any student who is deemed academically healthy (passing all classes at CHMS. )For more information or to register please contact Catherine Proto at the YMCA (203) 729-9622
We will provide transportation from CHMS directly to the YMCA after school.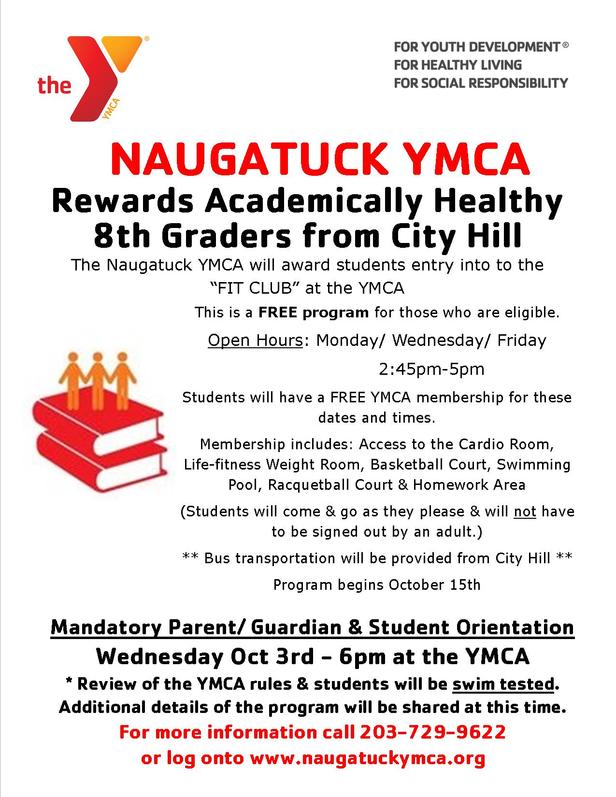 Links to Important Documents
Resources for parents of middle school students
CHMS PTO minutes Scroll down for all months
City Hill Middle School website

My School Bucks (Make cafeteria lunch payments online)
Please like our City Hill Middle School Facebook Page for daily updates and photos.