CHMS Weekly Snapshot
January 2, 2019
Town Hall Assembly and Student Faculty Volleyball Game
On December 21st students and faculty participated in a student faculty volleyball game and a town wide assembly. Students were recognized for their athletic and academic accomplishments as well as the ability to demonstrate ROCKS expectations and maintain consistent attendance.
We strive to celebrate our student accomplishments in and out of the school community. Our next town hall assembly will be held prior to the February break. We ask that families reach out to help us recognize our students successes outside of the school.
Naugatuck Public School Faculty, Staff and Alumni Give Back
CHMS students were the recipients of forty-one $25 Walmart gift cards. Doug Hale, a NHS staff member with the help of NPS faculty staff and alumni raised money for families during the holidays. This year CHMS students were the lucky benefactors. Mr. Hale is pictured left with some of our school National Junior Honor Society members and our wingman who accepted the donations on behalf of our CHMS families.
Additionally, our school nurses Mrs. Clarke and Mrs. Albert organized a holiday gift drive and were able to present more than twenty families with gift cards and clothing.
Washington Trip Payment Schedule
Direct questions to washingtontrip8thgrade@yahoo.com

The DC "drop off" dates for the remainder of the payment schedule will be—
1/15 at 6:30pm
You can find the sports schedule on our website and a complete link to the CIAC website.
Friendly Reminders:
Dress Code reminders -
Students may not wear jeans with tears above the knee without wearing leggings underneath.
Students may not carry or "wear" blankets to class.
Students should only have clear water bottles in classrooms. We are not permitting travel mugs in school.
Guidance News:
Visit the Counseling section on our website for information on the upcoming 8th grade open houses.
Safety Measures

Thank you to parents who drive cautiously in the morning and afternoon pickup. Students should not be dropped off at CHMS before 7:40 a.m. Please turn off your engine while waiting. We make our children's safety a priority. Just a reminder that students under 18 are not permitted to ride alone using an Uber service.
Parents, reminder to always bring your picture ID when visiting City Hill.
Please reinforce our ROCKS expectations with your children.
R espect O rganization C ooperation
K indness S afety
Community Connection

From the Naugatuck YMCA,
The YMCA is offering a Fit Club program for any student who is deemed academically healthy (passing all classes at CHMS. )For more information or to register please contact Catherine Proto at the YMCA (203) 729-9622
We will provide transportation from CHMS directly to the YMCA after school.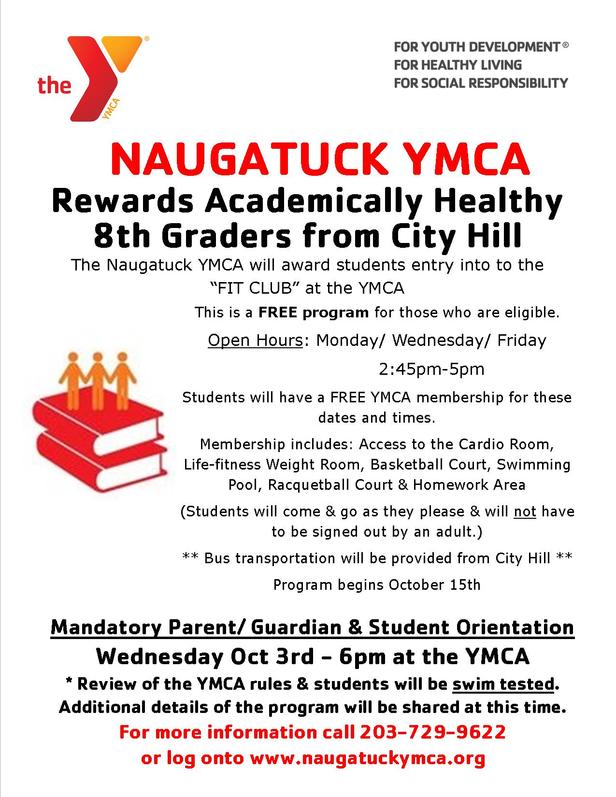 Links to Important Documents
Resources for parents of middle school students
CHMS PTO minutes Scroll down for all months
City Hill Middle School website

My School Bucks (Make cafeteria lunch payments online)
Please like our City Hill Middle School Facebook Page for daily updates and photos.